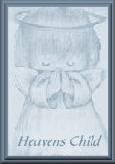 BREATHLESS PAGES





Scriptures

A SITE DEDICATED TO THOSE WHO LOST
DUE TO A STILLBIRTH.
Stillbirth is the death of a baby after the 20th week of pregnancy
but prior to delivery. Most often it is detected while the baby
is in the mother's uterus, sometimes not until labor is underway.

Stillbirth is common. It may affect anyone.
There is no way to predict when stillbirth will happen
or who will experience it. Stillbirth occurs in families of all races,
religions, and income levels. Each year about 25,000 babies,
or 68 babies every day, are born still. This is about 1 stillbirth
in every 115 births. Something as common as this will, at some point, directly or indirectly touch the lives of many people. A friend,
a relative, or you, yourself, may experience stillbirth.


Everyone is welcome to add their little angels to Heavenbound Memorials


and please feel free to add your name to the
support page
aswell


| | |
| --- | --- |
| | VISITORS SINCE JULY 13, 1999 |

made for heavenbound and in memory of Sheldon James Gray and for my sister Rose.